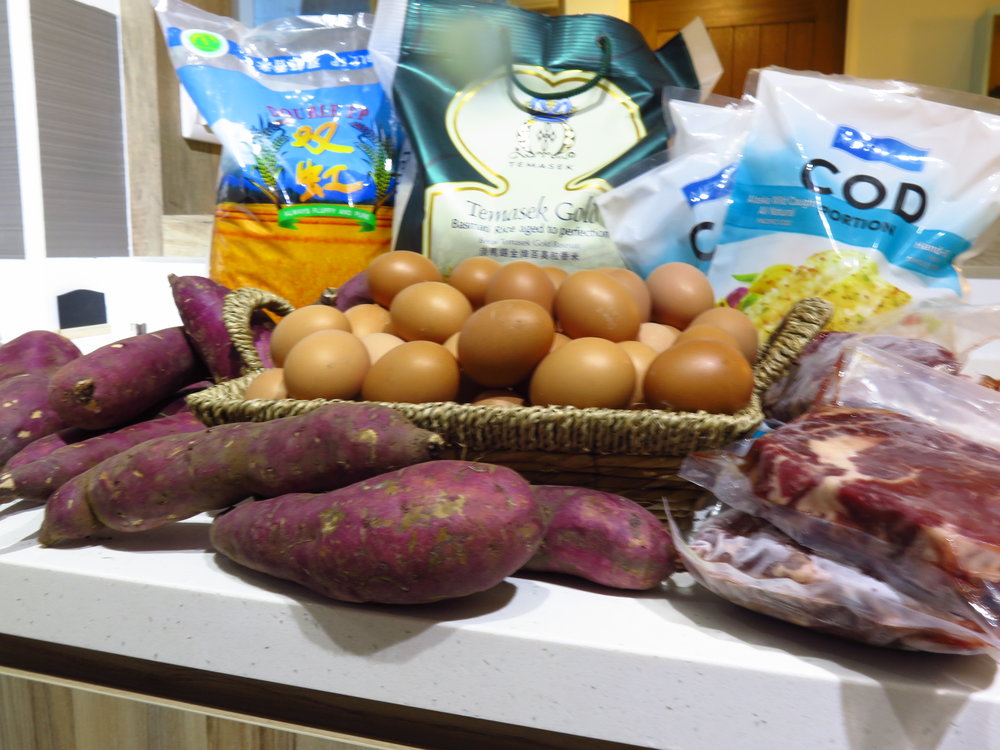 A lot of people would like to know what do I eat in a day. As promised, here it is. Before that, let me give you an insight of my diet when I started bodybuilding at the age of 16.
How Was My Diet Like Before?
I have a hard time adjusting my diet and lifestyle the day I started to get serious in competitive Bodybuilding in 2012. To be honest, many times I wanted to quit. Praises to Lord Almighty, it have been 13 years; 13 years of ups and downs trying to fine tune my diet and here I am, sharing these with you today. I weighed 52kg when I started lifting weights at the age of 16. Just like any teenager, I spent a lot of money on supplements due to lack of knowledge on nutrition. Back then, my thinking was- protein powder = Mass. Soy milk and dairy milk became my alternative back then when cash flow is low. I would drink at least 1 litre a day and eating a loaf of bread without fail. Hungry or not, I would force myself to eat every 2 hours. Over-eating for me was common back then to 'bulk up'. I still remember I ate a very big plate of rice with meat every 'recess' time. When I used to eat out, I would always eat eg. 1 chicken chop and then 3 whooping scoops of rice, additional mutton soup and ended off with 'bobo-chacha' dessert. Absolutely delicious. 3:1 carbs to protein ratio. Then, I got really fat. I got belly! Back then was called- skinny fat. Today, I weighed around 88kg+ off season and around 82kg on stage. All the hard work and effort I have put in, I didn't regret it. No. I didn't get my body in 2 years; It was a long 13 years journey. Of course, it will be better in future and it will get better. Let's get started.
What Is My Diet Like If I Have No Contests?
My diet consists of 750-1000g of grass-fed minced beef, salmon or Cod fish(weighed before cooking), about 100-250g of black rice or basmati rice, 7 half boiled whole eggs daily, 7 days a week, including Saturdays and Sundays. Intermittent fasting during Sundays as I will be spending 3 hours tanning under the sun. Of course, at times, I would change my meat source once a while. Once a while, I will pamper myself with 250g of Angus Ribeye Steak.
How Are My Meals Cooked?
Meals are stir fried with a non-stick pan. The latter is the fastest and easiest way to prepare my food. I usually put coconut oil or olive oil only after cooking; I still strongly believe cooking the oil will change its molecular structure which changes from unsaturated fats to saturated fats bond. There are a lot of articles online about the latter. You can check them out and experiment yourself. If I'm cooking fish, I would bake them in oven, 200-250 degrees celsius for 10 minutes.
How Do I Prepare My Food?
Food are prepared in the early morning just before I go to work. I do not cook the night before. I do know of some folks who meal prep the night before. Meals are cooked and packed by myself in the morning. I do not ask my wife to prepare my daily food as I don't like her to wake up as early as 530am.
Where Do I Buy All My Food?
I usually buy frozen fish, rice eggs from NTUC, GIANT, Seng Siong Supermarket. Whichever supermarket has some offers going on, I would go for that. For Turkey breast and beef sources, you can try Zacbutchery. I usually buy my food in bulk and re-stock them weekly.
How Long Do I Take To Prepare My Food?
As mentioned above that I prepare my food every morning, I take about 30 minutes. However, I would spend another 15 minutes minutes to clean up and fix my first meal of the day. Total time taken is about 45 minutes. Henceforth, I wake up 1 hour earlier to prepare my food.
Do I Have 'Cheat Meals' or Eat Out Days?
Once or several times a week, I would eat just 1 meal I like eg. Mee soto, Briyani, etc. Yeah, just one meal of my choice a day in a week. More than that, I will see myself turning fat. As a married man, I would also have a meal outside with my wife too. However, I usually go for quality calories instead of empty calories. Cheat smart. Example, I would go for a whopping burger filled with cheese, 200 grams of juicy beef rather than a plate of fried noodle. If I am competing, again, depending on how my body looks, I would have a meal I desire. Nothing more than that. For cheat meals, don't overdo.
Why Is There No Vegetables Mentioned In My Diet?
I have to admit, I am too lazy to eat vegetables unless I have the luxury of time, I would eat. It is not that I dislike vegetables. In fact, I am starting to eat back vegetables because of the endless benefits in them. I can challenge you to have a cup of broccoli(about 220g), eaten together with whatever you are eating, 4x a day for 2 weeks and you will understand why I didn't include in my diet initially. Also, my job gets more busy than ever that sometimes I have to eat within 20 minutes and get back to work. I wish I am not working and the government can sponsor me so I can represent Singapore in Bodybuilding like how they used to do back in the 80s'. Sad but true.
So How Does My Contest Diet Looks Like?
My contest diet consist of 1-1.5kg of sweet potatoes, 1-1.5kg of Halibut/salmon fish, 7 egg whites, 2 yolks and 2 whole broccoli(including stalks) daily. Along the way, the carbs will decrease gradually to shed the body fats and some food will be replaced etc. That's it, simple. At certain times, I will have jasmine rice inside my diet as well. Supplementation changed too. Outside food is prohibited and everything will be kept strict and tight. Date with my wife continues but I would bring my food out no matter what. If she wants to eat in a restaurant, I will eat my meal before going in and accompany her to eat.
Do I Recommend This Diet To Bodybuilders Or The General Public?
Throughout my posts, I have been emphasising to readers or fitness enthusiasts that do not copy my diet completely as this diet has been experimented and suits only myself over the years. You have to keep finding the type of food which suits you and go with it. I know it takes years to experiment but oh well, that's the only way, really. Lastly, I wouldn't recommend my diet to a person who works in the office, have to attend to kids after work etc. My advice is to take a more holistic approach on a diet which suits your lifestyle the best. I chose this diet because I want to be a bodybuilder and it has been part of my lifestyle. Do read another article of mine to learn more about difference types of diet which might benefit you in your hectic daily life in Singapore- http://amirrudinong.com/the-best-diet-for-you/
What Supplements Do I Take?
I take a lot of supplements but due to a change of diet which is more expensive, I have reduced my spendings on supplements. I only get the basic supplementation. To read more, you can refer to- http://amirrudinong.com/my-list-of-supplements/
Any Other Advise To Give The Rest?
I am a human being just like you. I don't consume anything special. I work harder than the previous day and I eat just like you do but just a little more weirdo. I eat Mee rubus, chicken rice and Laksa just like you do! I have my food cravings too. Time your meals properly and plan them out. Don't feel bad if you eat a cheat meal. Be happy about it.
I hope you have a clearer picture of what I eat in a day.
You can also subscribe to my website via email (on the right of screen) to stay updated with all health and tips!
Your Coach,
Amirrudin Ong